 Russian Ivan Review
All of us are well-familiar with Russian folklore from the childhood, where good always wins the evil, wealth comes in result of lucky circumstances, silly and lazy people are supported with mythic creatures and nature events in their lives. Well, in general, the Russian folklore incarnates all the sacred dreams of the Russians. Of course, Russian Ivan slot machine, created after these stories, can't leave the fan of such fairy-tales cold-blooded.
Rating
Excellent
8.14 /10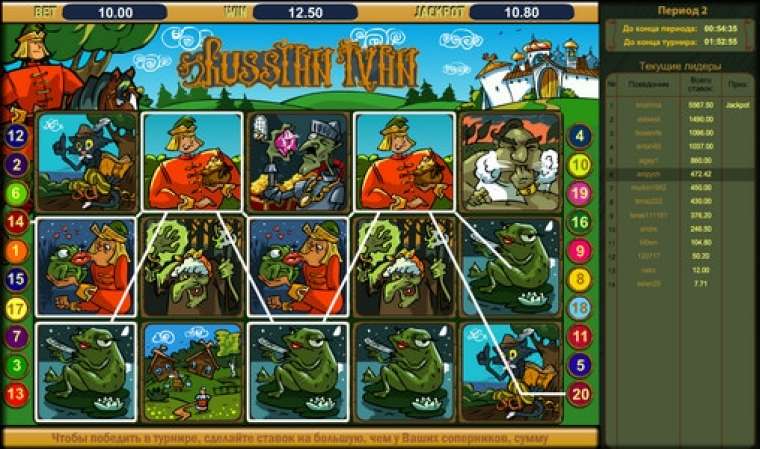 Play Russian Ivan
Russian Ivan – is the
slot machine
developed by Alfaplay, which has five reels and twenty pay lines. This video slot is also provided with the special symbols, free spins, the gambling feature and a bonus game. Show tournaments are regularly held here as well. The players participate automatically just playing on this slot. You don't need to make any special payments for it.
Paid combinations of Russian Ivan slot machine are formed of the similar symbols, which have to be situated next to each other at the active line, starting from the first left reel. To make a combination, you need to hit at least two or three similar symbols (depending on their kind). The combinations of the special symbols are formed by the special rules. The maximal payoff is 5000 bets per line and it is awarded by five Wild symbols.
The gambling feature is implemented with a good humor typical for Russian Ivan slot machine, which can be triggered at the special screen after any winning spin by click at Gamble button. The main hero appears in the dark night forest where two monsters are hiding behind broken trees. You would have to target one of them and shot it. If you make a right choice, you shot the enemy before it throws a stone into you. In this case your prize is doubled up. However the enemy can be the first in case of bad luck and you lose all staked money.
Russian Ivan Symbols, Wild, Scatter
As you could expect, the gaming symbols, which you would see at the reels of Russian Ivan slot machine are images of the characters of different folklore and even fairy-tales by Pushkin. All of them are imaged in a funny way and it is not easy to understand who is who time after time. Here you would meet Babe Yaga, old tsar at the throne, Bag of Bones, Nightingale the Robber, Ivanushka, the frog, as well as images of a church and a village.
Wild symbol of Russian Ivan slot machine is the image of the main hero, which has found a pot with gold somewhere, which is the reason of the happy smile at his face. This symbol is able to replace almost any other icons (except of the special symbols) when it can help making a paid combination. Only the maximal combination made with its help is awarded with a payoff.
If you hit from two to five images of dancing house at chicken legs anywhere at the screen, the total bet would be multiplied by the special index. It is three in case of two symbols, thirty when you hit three, seventy-five in case of four and one hundred for five such symbols.
To get right for ten free spins, you have to pick three images of the Dragon. Their location at the reels doesn't make sense.
An image of the trained cat from the Pushkin's tale plays part of the Bonus symbol in this game.
Russian Ivan Bonus games
In the bonus game of Russian Ivan slot machine, which takes place at the special screen after you make a combination of three, four or five Bonus symbols at the active line, the main hero has a complicated task. He goes to the famous Pushkin oak with cat walking by the chain. There are seven small meadows between the roots of the oak.
The Ivan has to choose them one by one in hope to find a chest with treasures there. Lucky choice brings a winning in amount of the bet per line, multiplied by the won index. However unlucky decision leads to the end of the bonus round with saving of all results. If you don't win anything from the first attempt, you would be granted with a consolation prize.
Size of the multiplier depends on the number of bonus symbols in the combination. In case of three of them, it is 50, if you hit four, the multiplier is 100 and 500 for five such symbols.
Jackpots
There are no progressive jackpots, which you could
win
making a special combination in Russian Ivan slot machine. However you can win some progressive jackpots taking part in show tournaments here.
Russian Ivan Interface
Well, there is no sense in detailed description of the interface of Russian Ivan slot machine, because in makes no difference to other slots developed by Alfaplay company. The only exception is the table of tournament leaders. Such buttons as Bet, LInes, Spin, Auto, Maxbet and Gamble are well familiar to all the players. All the rules are available in several languages.
Conclusion
Russian Ivan slot machine is quite an interesting slot with the high quality graphics and a plenty of interesting features. This game has low
dispersion
, although there are some combinations paid by high indexes. Moreover, free spins and bonus games are frequently hit here. Usually, fifteen minutes of playing by all lines is enough to see all the features of this slot.
Where to play Russian Ivan for free or real money in Canada?
You can test Russian Ivan slot machine personally in any online casino powered by the software developed by Alfaplay. The logos of such gambling houses with links to their official websites are presented below. There you would have to pass a quick registration after which you get access to all the presented games. It is possible to play for fun as well as by the real money.Your responses about Russian Ivan slot machine would help us making Casinoz more interesting and useful for the readers. Please share your impressions in comments to the review and rate this game. Your opinion is very important for us.