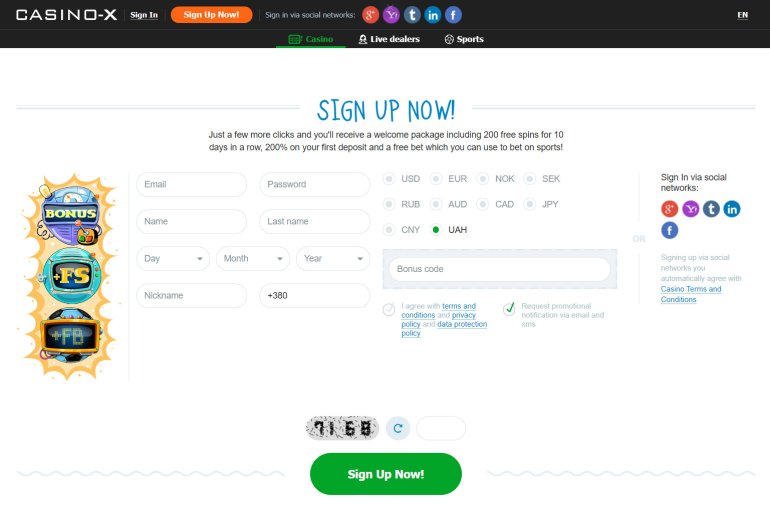 The registration process in any online casino begins with a visit to its website. You can find all the necessary information on terms and conditions, download the installation software to your computer, and so on. It is sometimes recommended to install the casino software, but most often, you can play in the browser version.
Why Register at an Online Casino
You must register at the casino to play for real money, claim bonuses, participate in promotions, and use other services.
To create an account, click the Registration button, although sometimes it can be called New Player or Sign Up.
Some online casinos require registration even for a training mode (Practice, Guest, For Fun). We are not interested in this option, so if you have similar options, tick the option For the money (or Real Player).
Internet Casino Registration Form
Below is a list of information you need to enter when registering. Remember that it must be true. Otherwise, you may have problems withdrawing money at any online casino. If some sections are marked as Optional Information, this information is not required.
Name - First name and surname must match those specified in the credit card you plan to use in the casino.
Date of Birth - Pay attention to the format: mm/dd/yy means month/day/year.
Postal Address - Make sure it matches the address specified in the credit card you intend to use in the casino. Fill it in as follows: Street, house, apartment, City. The country usually must be selected from the list. Do not forget about the postal code.
E-mail - You can use one from a free server, although spam filters block some.
Telephone (Contact Phone) can also be checked, so it should be accurate, with a complete code.
Gender (Sex) - male or female.
Once you have entered all the data, press Submit, confirming the correctness of this information. After that, you will be offered to choose a username you will use during the game and a password. You should enter the password twice. Be prepared for the fact that other players can occupy all simple and catchy names. Password should not be straightforward.
In some online casinos, it happens without your involvement, so the name and password can be generated automatically. Be sure to save the username and password in a safe place. Do not rely on your memory.
What Is Next?
Then you can log in to the casino. To do this, enter your username and password in the appropriate fields and click Login.
Then, you will be asked to replenish your account (make the first deposit), but we'll discuss it in another article on Casinoz.