 Zoloto partii Review
Since the Soviet Union has fallen apart, the most part of citizens of this huge country has a kind of nostalgia about their ex-motherland. A wave of this kind of patriotic feelings has resulted different thematic TV shows, fashion clothes, new trends in art and etc. Of course, it has also touched the gambling business. For example, «Unicum» company has released a slot machine named «Party's Gold», which is used to be called just «Party».
Rating
Excellent
8.05 /10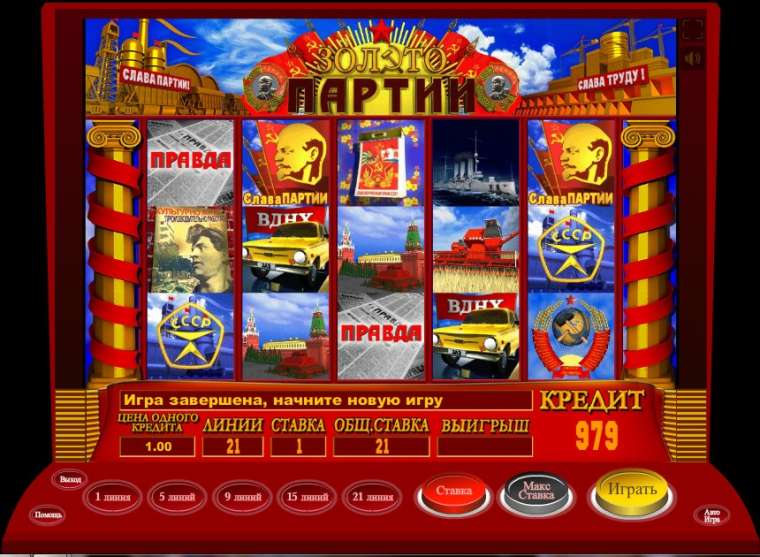 Play Zoloto partii
«Party's Gold» is the slot machine which was available in the live slot halls before. Now it is not so easy to find, but it is still presented in some online casinos. This model has five reels and twenty one pay line. It is possible to stake up to ten credits per each of the lines, so the maximal acceptable bet is two hundred twenty credits per spin. An amount of the maximal payoff is 100000 credits. This model is provided with the original gambling feature which can double up your win and two bonus rounds.
Winning combinations have to begin from the first left reel and consists at least of three similar symbols situated next to each other at the same active line. The combinations indexes are multiplied by the player's bet. The interface of this game is typical for the production of Unicum that's why there is no sense to discuss its details. Moreover, the game is available in several languages.
When the player wins a prize of any amount in result of a spin, he can try to increase it in the gambling feature. Here you can see Kremlin Chimes which dial is divided into red and blue sectors. The player has to choose one of the sectors in hope that the arrow stops there. Lucky choice doubles up the win, while the wrong one takes your bet away.
Zoloto partii Symbols, Wild, Scatter
Well, nostalgic mood of «Party's Gold» slot machine is supported not only by the design of the interface made in Soviet style in red and golden colors with stars and bends, but also successfully selected background music.
The gaming symbols, which you can see at the reels are items well knows to Soviet people from the very childhood, such as the Soviet Union emblem, the emblem of Olympic Games 1980, a combine, «Pravda» newspaper, ten ruble banknote, a satellite, «ZAZ» car and other elements of Soviet era.
There is also a joker, which can replace almost any other icons (except of the emblem and Bonus symbols), when it is necessary to complete a winning combination. Herewith, if the game goes on by several lines, the joker can replace different symbols at different lines in the same time.
Four or five images of ten ruble banknote and the satellite at the same active line trigger the bonus rounds of «Party's Gold» video slot («Envelope» and «Satellite»).
Zoloto partii Bonus games
«Envelope» bonus round is triggered by four or five images of ten ruble banknote at the same active line. Four envelopes are situated at the special screen in this round. The player has one attempt to choose one of these envelopes. In most of the cases they contain money which are transferred to the players account in credits, however, one of the envelopes is empty. By the way, this round is perfectly designed in style of that era. An iron teapot, a glass of tea, a portrait of Lenin, a black wonderful phone as well as bills are lying at the table. Every citizen of Soviet Union has seen such a composition in the past.
«Satellite» bonus round takes place at the special screen and begins when four or five images of the satellite appear at the same active line. The player moves to the space where he can see the Earth, Moon, Mars, Saturn and Venus. He would have to send satellites from Earth to the selected planet. If the satellite reaches the planet, a red flag is set there and the player gets prize credits. If the satellite doesn't reach the target, the player finishes the bonus round with nothing.
Jackpots
«Party's Gold» slot machine draws the fixed jackpot in amount of one hundred thousand bets, while the maximal bet is two hundred ten credits per spin.
Zoloto partii Interface
«Party's Gold» slot machine is available in several languages, including Russian. In general, it is a predictable slot machine with the typical interface for this kind of gambling games. Its graphics and gamleplace can hardly impress the modern gamblers, but it is pleasant to play this game.
Conclusion
Of course, «Party's Gold» video slot is able to delight those who remembers the passed days well with its design. However it seems to be the only feature which can attract attention to this game.
«Party's Gold» is the slot machine, which is easier to download from the web than find it in any modern online casino. There is nothing surprising, because there are lots of mode advanced and interesting slots developed by large producers now. The same is about video slots devoted to the Soviet Union and everything connected with it.
Where to play Zoloto partii for free or real money in Canada?
It is not so easy to find «Party's Gold» slot machine in an online casino. Nevertheless, it is still possible to download this game free even without registration. Get pleasure of the game with Soviet symbols which becomes more and more popular.Please share your impressions of «Party's Gold» slot machine with us and other readers of Casinoz. You can write your responses in comments to the review and rate this game. Your opinion is very important for us.