 Fruits vs. Vegetables Review
Total militarization and tendency to solve problems in military way has swept the entire planet. Even fruits and vegetables are fighting sorting things out with help of gunshots, mines, rockets and even boxing gloves. It is not easy to say what this garden brotherhood couldn't share, but they are enthusiastically protect their interests. If you have a desire to watch at this armored conflict, just launch Fruits vs. Vegetables slot machine produced by Alfaplay company.
Rating
Excellent
8.63 /10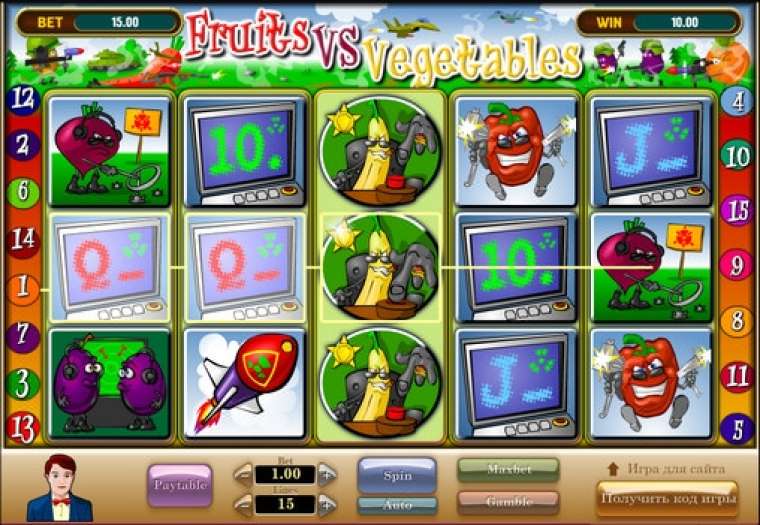 Play Fruits vs. Vegetables
Fruits vs. Vegetables is the online slot machine with five reels and fifteen pay lines. It is possible to win with help of the special symbols, free spins, the bonus game and the gambling feature here.
Paid combinations have to include at least two or three similar symbols, situated next to each other at the active line, necessarily starting from the first left reel. It is impossible to hit a
huge payoff
in one spin in this slot machine. The maximal payoff index (which is x500 here) works for five images of two plums radio operators next to the locator.
The gambling feature, which can double up your prize won in result of a lucky spin, is implemented in the typical for Fruits vs. Vegetables slot machine style. Here you would have to pass a mine field choosing one of two panels. Lucky choice doubles up your win and allows to continue the game in this round if you want to. However wrong decision leads to the burst and loss of the bet. It is possible to increase the original bet 512 times in this round if you take ten lucky attempts running.
Fruits vs. Vegetables Symbols, Wild, Scatter
Of course, the main heroes of Fruits vs. Vegetables slot machine are aggressively disposed fruits and vegetables. Except of them and different kinds of weapon, here you can see screens with letter and number signs of the values of playing cards from ten to king.
Part of Wild symbol is played by banana in sunglasses, which pushes a red button with wild look, seems to be giving an order to launch the missiles. When it appears at the screen, it splits into three clones taking the whole reels and replacing the symbols, when it is necessary to help making or improving paid combinations.
A carrot, which skillfully runs aways from the bullets in style of the main hero of «Matrix» - is the symbol which multiplies the bet several times. It happens when from two to five such animated icons appear at the screen (independently of their location). In this case your bet is multiplied from five to one hundred fifty times.
Please don't be afraid when three peppers with revolvers in their hands generously showering all around with bullets jump out at the reels. It means that you get right for twenty free spins, while location of these symbols doesn't make sense.
The bonus symbol of Fruits vs. Vegetables slot machine is an image of a flying nuclear missile in the clouds.
Fruits vs. Vegetables Bonus games
When three and more images of a missile drop out at the active line, the bonus game of Fruits vs. Vegetables slot machine is getting started. You would have to choose one of them to multiply your bet by the special index (from 250 to 450).
Jackpots
Any
progressive jackpots
are not drawn in Fruits vs. Vegetables slot machine.
Fruits vs. Vegetables Interface
It is possible to control the gameplay of Fruits vs. Vegetables video slot with help of such standard buttons as Bet, Lines, Gamble, Spin, Maxbet. Auto button opens the dialogue window of the automatic game mode, while Paytable opens the payment table, which is available in several languages.
Conclusion
Definitely, it is one of the funniest slot machines ever produced by Alfaplay. Of course, its graphics and animation can't be called perfect, but it still can make you smile. The background music entertains a lot first time.
Fruits vs. Vegetables slot machine would be interesting first of all to those who like humor and doesn't have an aim to win a huge amount in one spin. Paid combinations are formed quite often here, but payoffs are small.
Where to play Fruits vs. Vegetables for free or real money in Canada?
Playing on Fruits vs. Vegetables slot machine for fun as well as by the real money is possible in different online casinos, powered by the software developed by Alfaplay. You can see logos of some of them with links to their official websites below.Please share your impressions of Fruits vs. Vegetables slot machine with us and other readers of Casinoz. You can write your responses in comments to the review and rate this game. Your opinion is very important for us.