 Maski Show slot Review
«Mask Show» comic show was the first of the kind in Russian Federation. Anyway, the first successful show of this genre. It still brings smile on faces of most of Russian spectators, as well as good memories. Moreover, the fans of gambling entertainments should remember «Mask Show» slot machine, which could be found in many slot halls. Nowadays it is much easy to download its emulator in the web then find in any casino.
Rating
Excellent
8.54 /10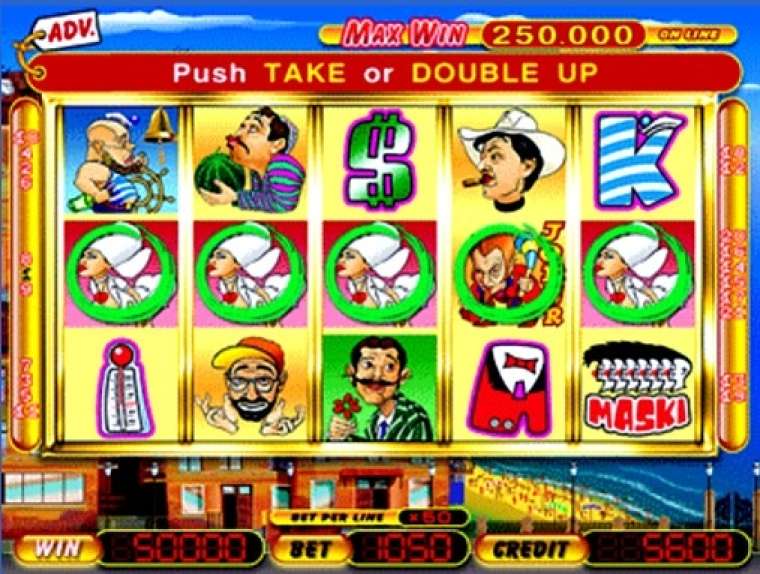 Play Maski Show
«Mask Show» is the slot machine powered by Extrema software, which has five reels and twenty one pay lines. An amount of the maximal bet is 420 credits, while the maximal win is 250000 credits. This game has two bonus rounds and the gambling feature. The combinations made of three similar symbols situated next to each other at the same active line, starting from the first left reel, bring prizes. The highest payoff is awarded for five logos of «Mask Show» at the same active line.
As soon as you set up quantity of the active lines and an amount of the bet per line, you need to click at «Start» button, which starts a new spin. You can stop the spin in advance by click at the same button or stop the reels one by one with help of Hold 1, 2, 3, 4, 5 buttons. Information about the current game is displayed in such windows as «Bet Per Line» (an amount of the bet per line), «Win» (an amount of the win), «Bet» (an amount of the total bet) and «Credit» (a state of the player's account.
When you get any win, you can transfer it to your account with help of «Take» button or try to increase it in the gambling feature by click at «Double Up» button. This round takes place at the special screen where you can see an image of a say nurse and vertical title «Mask Show», every letter of which, starting from W, contains some win. This letter always blinks in the first wound and you aim is to catch it lighting by click at «Hold 3» button. If you manage to do it, you double up your win and go to the following level where you would have to catch O letter. If you manage to reach the top can catch M letter, your win will be increased over two times. A pleasant surprise for the gamblers is two S letters, both of which are lighten up after first lucky game at one of them. If you manage to catch K button, you get automatically get a win for the second S.
«Mask Show» slot machine offers the most common kind of gambling feature, which can double up your win. Here you would have to pick one of four face-down cards in hope it is higher than the dealer's card. Unusual feature is that you can change an open card if it seems to high for you.
Maski Show Symbols, Wild, Scatter
As it was already mentioned above, «Mask Show» video slot is devoted to the comic show «Mask Show» and the gaming symbols, which you can see at the reels, are images of the main heroes in their most typical roles. Here you can also see the logo of «Mask Show», a thermometer and stylized letters of «Mask Show» title. This video slot is also provided with the special symbols.
An image of Deliev in image of one of the characters and Joker titles is Wild symbol of this game, which drop out only at the second, the third and the fourth reels. It can replace any other icons when it is necessary to make a winning combination, except of a poet (Barskiy), a boatswain (Komarov) and a woman of pleasure (Buzko).
An image of the boatswain is Bonus symbol of this game. When three, four or five such symbols drop out at the screen (independently of their location), the player starts playing in Free Game Bonus. This round brings you free spins during which you can hit images of the woman of pleasure, which trigger Casanova Bonus.
In image of the character in glasses and hat (Postolenko) is Scatter symbol of «Mask Show» slot machine. Three such symbols at the screen give the player a win in amount of two total bets, four of them bring five total bets and five such symbols - fifty total bets.
An image of the poet is Bonus symbol of this game, which triggers Mask Bonus round. To make it, you need to hit three, four or five such images anywhere at the reels.
Maski Show Bonus games
Mask Bonus.The bonus round of «Mask Show» slot machine takes place at the special screen and begins when three images of the poet drop out at the screen. The player sees five clown masks which hide five heroes of the game and some wins. An amount of the win is proportional to the bet of the main game. The customer can pick three masks, however, his account is charged only with result of the last attempt if he had three poets in the regular game. In case he has entered the bonus round with four poets, he can takes wins of two last attempts. Five poets bring wins from all five attempts to his account.
Free Game Bonus. Free Game Bonus round begins when three, four or five images of the boatswain appear at the screen. It gives an opportunity to win free spins with increased prizes. Blinking sectors with number of free spins and extra multipliers appear at the screen. All the sectors are played out only when you get into the bonus game with five images of the boatswain. If you have hit three or four such symbols, you would have an opportunity to get up to five or ten free spins. You can pick the sector by click at Start button.
Cazanova Bonus.It is possible to get access to this bonus round only during free spins. It happens when five images of the woman of pleasure appear at the screen (independently of their location). Here the player moves to the five floor house with five windows at each of them. He has to pick one window at every floor starting from the first, getting some prizes. Higher the main hero rises under the player's control, higher the wins are. However he can meet the boatswain in one of the windows, that finishes the bonus round with saving of the total win.
Maski Show Interface
In general, «Mask Show» online slot machine was created with a good sense of humor and has a convenient interface. However we should say that the rules of its bonus games make a great difference to most of the common slots. On one hand, such originality attracts, but on the other - it can seem too complicated. It repels many players, which don't like to spend time for learning the particularities of the game.
Conclusion
Of course, playing on «Mask Show» slot machine for fun or by the real money is interesting only for the desperate fans of the same named comic show. In the rest, in spite of the great variety of bonus features and original solutions, it can't be compared with the modern slots, which are available for all customers of online casinos powered by Playtech or Microgaming. It doesn't hold competitions in quality of the graphics, security and excitement of the gameplay.
Where to play Maski Show for free or real money in Canada?
Frankly speaking, it is not so easy to find this video slot in the modern online casinos.However if you have managed to do it, please share your impressions of «Mask Show» slot machine with us and other readers of Casinoz. You can write your responses in comments to the review and rate this game. Your opinion is very important for us.