 Abandoned Library slot Review
Libraries (even the smallest) always had a unique atmosphere, which made a special influence on the visitors. Perhaps, each of us has a kind of respect to such a huge amount of knowledges surrounding him in these walls. Moreover, if the library is forsaken, it adds some mysticism and mystique. Exactly this topic is developed in «Abandoned Library» slot machine, which was released by Alfaplay company.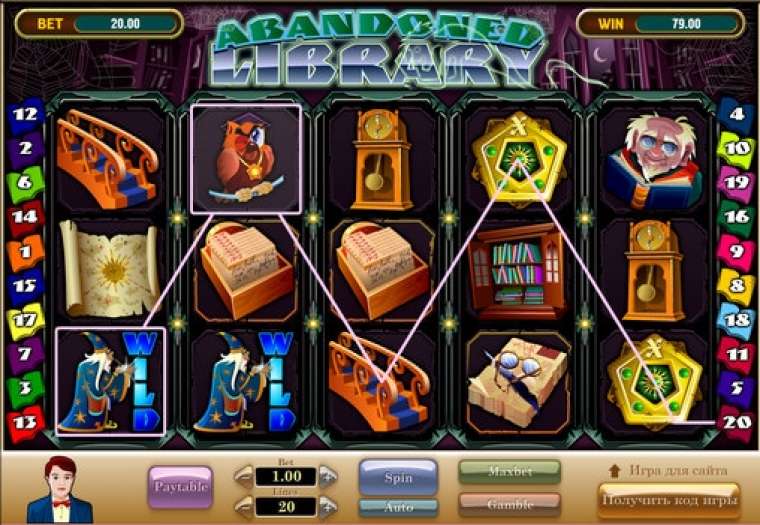 Play Abandoned Library
«Abandoned Library» is the slot machine with five reels and twenty pay lines. It is provided with the special symbols, free spins, a bonus game and the gambling feature.
Winning combinations have to include from two or three similar symbols, situated next to each other at the active line, necessarily starting from the first left reel. The maximal payoff in amount of 5000 bets per line is awarded for five images of a librarian with a book, dropped out at the same active line.
In the gambling feature, where you can double up a win received in result of a lucky spin, you would face the librarian and his owl. He suggests you to choose one of nine rolls at the racks. If you make a right choice, the roll is opened and you see the title which doubles up your win (that exactly happens). In the other case, the roll dissolves into the win and your bet loses.
Abandoned Library Symbols, Wild, Scatter
As the scene of «Abandoned Library» game takes place in the library, abandoned in a mysterious way, everything spins around magic and books here. Here you are going to see book rack, card-files, figure stairs, mysterious scrolls, medallions, symbols of wisdom - an owl and the librarian.
Wild symbol of this game is a magician in a blue robe and Wild title next to him. This image is able to replace any other symbol, necessary for making of strengthening a paid combination. As usually, only the maximal combination formed with its help brings a payoff.
In case from two to five images of the wizards with a crystal ball, don't hurry to be afraid. In fact, it means that your bet is multiplied from five to one hundred fifty times.
An ancient book with a feather and Scatter titles above it is the symbol which gives the player right for free spins. In case three and more such symbols appear at the screen (independently of their location), the casino stakes instead of the player during following ten spins, and the win is multiplied three times.
Bonus symbol is an image of a golden amulet.
Abandoned Library Bonus games
The bonus game of «Abandoned Library» slot machine takes place right at the reels. It begins when from three to five bonus symbols with images of the amulet appear at the active line. The player would have to make just one step - to choose one of these amulets and his bet would be multiplied several hundred times. To be more exact, three bonus symbols dropped out at the screen multiply the bet 500-600 times, four of them rise it up 600-700 times and five such symbols - 700-800 times.
Jackpots
Any progressive jackpots are not provided by the rules of «Abandoned Library» slot machine, that's why the customers have to be satisfied by the maximal payoff in amount of 5000 bets for five images of the librarian at the same active line.
Abandoned Library Interface
There is nothing uncommon in the interface of «Abandoned Library» slot machine. It is the typical slot developed by Alfaplay company with the standard range of controlling buttons, such as pluses and minuses next to Lines and Bet windows (number of the active lines and an amount of the bet per line), Spin (start a new spin), Gamble (play in the gambling feature), Paytable (open the payment table), Maxbet (start a new spin by the maximal bet), Auto (the automatic game mode).
The graphics and animation are far from perfection, but they still have some charm and style, that's why they make a pleasant impression. The background music should support the atmosphere of mystique, but as it often happens in the video slots by Alfaplay, just annoys. It is possible to switch it off by click at the image of a pitch int he right bottom corner of the screen.
Conclusion
«Abandoned Library» slot machine is the common video slot, which makes difference to the rest production of this producer only by its design. If you are familiar with the slots developed by Alfaplay, you can't find anything new here.
Where to play Abandoned Library for free or real money in Canada?
Playing on «Abandoned Library» slot machine for fun as well as by the real money is possible in many online casinos, including
Slotico Casino
and
Silver Dragon Casino
.Your responses about «Abandoned Library» slot machine would help us making Casinoz more interesting and useful for the readers. Please share your impressions in comments to the review and rate this game. Your opinion is very important for us.