 Craps Review
Almost all online casinos (not to mention the land-based casinos) offer craps with classic rules. If there are any differences, they relate only to the set of available bets and multipliers for some of them, the table layout and other insignificant aspects. So, the manufacturers of software for online gambling can captivate users only by the colorful and realistic interface. Playtech, which offers its own version of craps, has succeeded in this.
Rating
Excellent
8.75 /10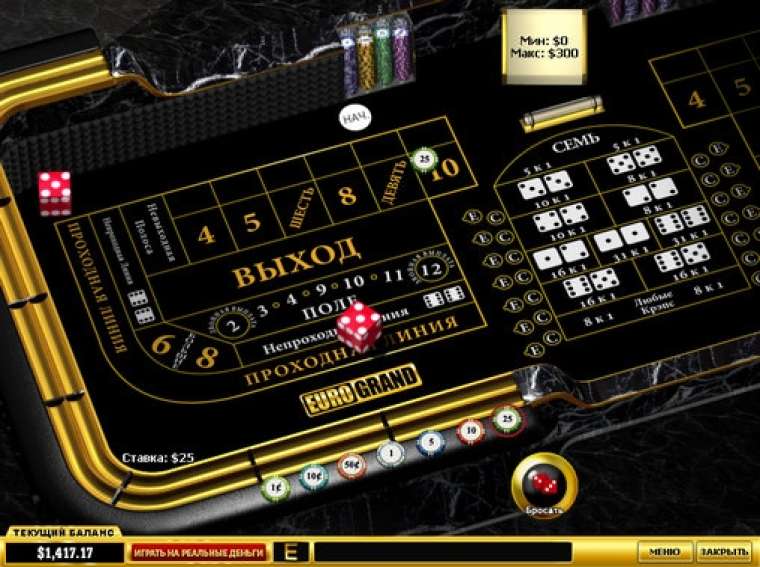 Play Craps
Craps from Playtech does not surprise its audience. It is a virtual version with the traditional rules and the most common types of bets, which are paid according to standard multipliers. If you do not know how to play craps, you can master it by reading the article about it on the website Casinoz. The rules are also discussed in detail at EuroGrand Casino (Menu - Help).
The gameplay is limited to selecting the coin bet and rolling dice. The further situation depends on the type of bet and score of the roll. The ranges of bets are determined by the rules of each casino individually. Gamers can wager up to three hundred dollars at EuroGrand.
Craps Interface
At some online casinos running on software developed by Playtech you can
download craps for free
with the interfaces in different languages. But it should be noted that the translation of some terms is not always correct. Therefore, it is better to familiarize yourself with the terms in English even if it is not your native language. Everything that happens in the game is announced verbally.
Conclusion
Playtech offers a very high-quality craps, which is ideal for initial familiarization with the rules and real bets. It has a colorful design. The inscriptions on the boxes are perfectly visible. The interface is very user-friendly.
Read our publications about craps in the sections Rules, Articles and Strategies. The bets in this game vary significantly in the incorporated house edge, so you should prefer some of them ignoring the others. In addition, you will find out how to start playing
craps
.
Where to play Craps for free or real money in Canada?
You will find this version of craps almost at all casinos using the platform from Playtech. You can also play craps without registration directly on the website Casinoz.