 Big Foot Review
Arguing about existence of so called Big Foot (or Yeti) in the world are actual already for many decades. However, we can trust only evidences of the eyewitnesses in this question, because there are no real evidences of the fact that even one sample of this kind really inhabits any of region. However, a scalp, which is meant to belong to the Big Foot, is presented in one of Nepal monasteries, while its originality is under doubts. Moreover, the whole commission by research of this issue was working in Science Academy of Soviet Union, which included really reputable scientists, but this issue didn't get farer than several hypothesizes. In the modern time the Yeti is one of the most popular characters of mass culture, which is always wanted in mass media. Meanwhile, Vegas Technology Company has released a free online slot machine named Big Foot, devoted exactly to this creature. Big Foot is one of the names of Snow Man as well as Yeti due to its big steps, which it is meant to leave.
Rating
Excellent
8.63 /10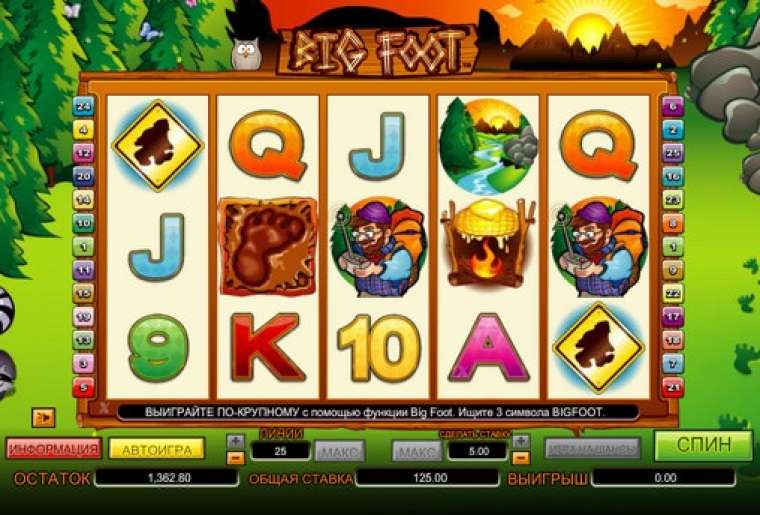 Play Big Foot
Big Foot is a video slot with five reels and twenty five paylines. A quantity of active lines can be selected by the player on his discretion. The acceptable bet per each of the lines is in range from five cents to five euro. This way, playing this slot machine is possible by the maximal bet, which reaches one hundred twenty five euro per spin.
Big Foot video slit is provided with free symbols with advanced functions, free spins, a bonus rounds and lots of other interesting and exciting functions. The gambling feature is also available here.
The winning combinations are formed of the similar symbols (from two or three), situated at the active line. The symbols have to be situated at the neighbor reels, starting from the first left one. As usually, only the most valuable combination by each line is charged with payoff.
The payoffs of Big Foot slot machine are calculated by the bet, staked per line. To find out an amount of the winning, it is multiplied by the combination index. The maximal index is x5000 here. Please read about all the possible exceptions from the mentioned above rules in the following paragraph of the review.
You can try to increase the winning, received in result of lucky spin, in the gambling feature of this game. There you would have to guess the color or the suit of the face-down card (on choice of the customer). In case you say the color right, an amount of the payoff would be doubled, while if you guess the suit, it would be increased four times. However, any mistake leads to loss of the bet.
Big Foot Symbols, Wild, Scatter
The symbols, imaged at the reels of Big Foot slot machine let the players understand clearly, that this slot machine is devoted to search of the Snow Man somewhere far from civilization. Here you are going to see an enthusiastic scientist with some equipment in his hands, an amazing mountain view, a bonfire, a sign with image of the Yeti, as well as signs of the values of playing cards from nine to ace.
Moreover, there are two special symbols in this colorful video slot, such as Wild (Big Foot) and Scatter (steps of the Big Foot).
Wild appears only at the three central reels of the slot machine, that's why it can't form the combinations on its own, while it helps making it from other symbols, which it replaces in case of opportunity (except of Scatter).
Three Wild symbols, situated anywhere at three reels, get a bonus game of Big Foot slot machine started.
Scatter symbols are not associated with the active lines. These symbols are paid out independently of its location at the screen, while an amount of the winning depends on the total bet per spin. It can be two, five, fifteen and one hundred total bets (for two, three, four or five such symbols accordingly).
Three and more Scatters in any position of the screen trigger ten free spins by the current bet, during which the payoffs are charged by double indexes.
Big Foot Bonus games
The bonus rounds of Big Foot slot machine takes place at the additional screen. Here you would have to look for the Snow Man by its shining eyes in the dark. No matter which pair of eyes you select, a prize payout is guaranteed. Its amount is calculated by the total bet. The bonus game can get started during free spins.
Big Foot Interface
Actually, there is no sense in detailed description of the interface of Big Foot video slot, because you can download this slot machine in several European languages (including the rules). It is possible to active an automatic game mode and switch off the sound of this game. The tips by the game appear in the special informational line, which is situated above the reels.
Conclusion
Big Foot video slot is provided with all the features, which a modern online slot machine needs to enjoy popularity among the customers of online casinos. It is provided with a pretty graphics, various gaming functions and high payoff indexes. Moreover, it has a multi-language interface, that is quite important for many readers of casinos.me.
Where to play Big Foot for free or real money in Canada?
You can test Big Foot video slot in a training mode or play it by the real money in EU Casino. We would like to remind you that slot machines are not available without registration even by the virtual bets in this online casino, that's why you would have to spend a couple of minuted to open an account. Actually, you are not going to face any difficulties to make it, because it is very easy.
Please share your impressions of Big Foot slot machine with us and other readers of casinoz.me. You can write your responses in comments and rate this game.