 Video Roulette Review
The new version of roulette from Playtech is called Video Roulette. It is provided with realistic graphics, videos and numerous various bets. All this approaches this game to the conditions of a brick and mortar casino and makes it very exciting. And the valid rule called La Partage significantly reduces the house edge.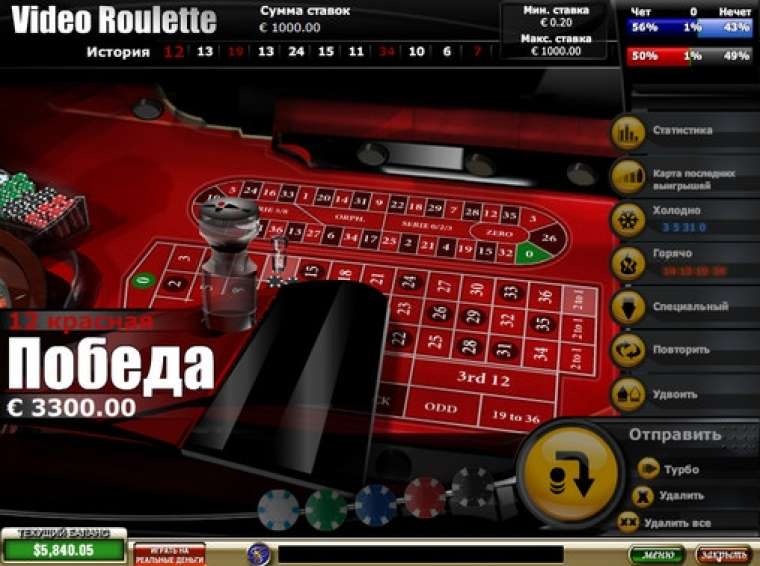 Play Video Roulette
Video Roulette is a
variant of European roulette
with the la partage rule. While playing it you can make almost all known bets (including the rare ones). The la partage rule implies that if zero comes up, half of all bets on equal chances are returned to players.
The gameplay in Video Roulette is traditional. The player selects the coin value (0.2, 1, 5, 25, or 100), wagers and clicks on the round button with an image of a stack of chips and a curved arrow. A window with a video pops up in the lower left corner. It displays the roulette wheel and the dealer's hand spinning the ball. Then the whole wheel with the spinning ball appears on the screen. Later, it is replaced by a zoomed pocket with the winning number.
Users can make many different bets in Video Roulette starting from the classic ones (on a single field, sectors, neighbors and outside bets) and ending with the special ones (red/black splits, final bets, manque/passe, etc.).
Straight up varies from twenty cents to one thousand dollars, but the total bet per spin is limited to one thousand dollars.
Video Roulette Interface
The interface of Video Roulette manufactured by Playtech has many different buttons and windows, but you will not be confused, since it is quite understandable. You can download this game at Tropez Casino or some other online casinos. Actually, all the control elements of the gameplay are intuitively understandable. If you know the rules of roulette, you will need just two or three minutes in free mode to master them.
Video Roulette offers statistics of the recent games. You can disable watching videos or skip each video individually. The bets made in the previous round can be repeated by clicking on one button.
Conclusion
Video Roulette from Playtech will be interesting to those who appreciate the realism in online roulette, but do not want to play with live dealers for some reason. For example, it will be appreciated by those who are annoyed by the slow gameplay in versions with live dealers, or are not satisfied with the lack of opportunity to make conditional bets.
The major advantage of Video Roulette is a good-quality, convenient and colorful interface. You should most likely get tired of watching movies in which the dealer is spinning the ball, but the game in general will please you for a long period of time. The wide range of bets should also be mentioned.
Where to play Video Roulette for free or real money in Canada?
It is possible to
download Video Roulette
at many online casinos running on the platform from Playtech. You can also test this game without registration in free mode directly at Casinoz.