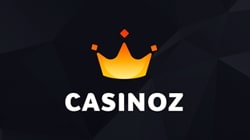 Skull Duggery

How to Play Skull Duggery slot machine
In Skull Duggery slot machine you can make bets with coins of value in range from one cent to one dollar. You can stake from one to five coins per line and from one to nine coins per spin. This online slot machine would suit the players with different bankrolls, because the minimal possible bet is just one cent, while the maximal acceptable is forty five dollars per spin.
Skull Duggery video slot would perfectly match requires of the casual players, as well as of those who like to make small bets. To play this video slot by the maximal bet, please click at Bet Max button (by nine lines with five coins per line). If you want to play by other bets, just click at Spin button.
This game is provided with Scatter symbol with image of a skull. Two, three, four or five such symbols at the reels bring you a payout in amount of two, seven, twenty or two hundred total bets. Scatter symbols are multiplied by the total bet per spin and added to the winnings by lines.
In case three symbols with image of a treasure robber drop out at the active line, it triggers the bonus game of Skull Duggery slot machine, where you would have to decide who of five characters is the robber. The one you choose would be thrown out to the sea from the board. It is the way of execution, which was used by pirates at their ships. Anyway, you get a prize independently of who you choose.
You can click at Expert button to make an option of auto game available for you. You can choose 5x and 10x buttons or choose advanced options, where you would be suggested with additional options of customization on your choice.
All the winnings are charged for the combinations made from left to right, except of Scatter symbols. Bonus payouts are added to the payoffs by lines. All the winnings are multiplied by the bet per line except of winnings by Scatter symbols, which are multiplied by the total bet per spin.
Before you start playing by the real money, please train in a fun mode mode without registration. Then you can go to get large payoffs to the real online casino!
Skull Duggery Symbols, Wild, Scatter
The range of gaming symbols of Skull Duggery slot machine includes images of a logo of Skull Duggery, a robber, a skull, a pirate captain, a treasure map with a dagger forced into it, a cup, as well as fruit symbols, such as an orange, a peach, a banana, grapes and coconut.
Skull Duggery Bonus games
In the bonus game of Skull Duggery slot machine you would have to trust your intuition and find a robber, which has robbed the captain. It is not so easy to make it, because the bandits look not very obvious. Here you would have to choose one of the bandits.
Jackpots
The highest payoff of Skull Duggery slot machine is twelve thousand dollars. Win such an amount is equal to still the treasure! The symbol with image of a logo of Skull Duggery game plays part of Wild symbols in this slot machine. As you know, Wild symbol can replace other symbols at the reels of a slot machine, while here it is able to replace only fruit symbols. However, when it happens you can increase your winning three times. This multiplier essentially affects your final results.
Skull Duggery Interface
This game is provided with a colorful and beautiful interface. Colorful symbols, which you can see at the reels, are situated inside of the frame, designed in style of wood and somehow reminds a pirate ship. The name of the game, which you can see in the bottom part of the screen, is designed as if it was the name of the ship. When you choose a quantity of coins to stake per line, this amount is displayed by sides of the reels. You can see an interesting design of the reels as well. The chains of different numbers are connected with small boxes with treasures.
You can see the following buttons in the interface of Skull Duggery video slot:
Select Lines - select a quantity of active lines. Maximum nine lines.
Select Coins - select a quantity of coins per line. You can choose from one to five.
Bet Max - an amount of the maximal bet.
Spin - start a new spin.
Autoplay button, which activates an automatic game, is available only in expert mode.
The bonus game is drawn simply magnificent in this slot. There you are going to see the greatest scoundrels, which can be imagined. All of them are robbers, while you have to choose the most desperate of them. But please be careful in your choice, because the robber and scoundrel you choose goes to execution. However, you get a payoff. It is the cruel sense of the bonus game of Skull Duggery video slot, which is drawn just incredibly. However, it is difficult to say about it, better to see everything with your eyes.
Conclusion
Skull Duggery game is worth of playing. First of all, pirate slots always attract lots of attention, because it is a very popular theme. Secondly, you can earn a great jackpot in amount of twelve thousand dollars here.
The specialists of Microgaming company have worked a lot on this slot machine. Graphics, as well as sound effects are worked out properly here, and the result is a beautiful picture. The game is so colorful that it is hard to believe that it is just a free online slot machine. It is possible to download this video slot free, that is another advantage of games released by this developer.
A very beautiful bonus game is worth of the special praise. Conceivably, the bonus game should bring different payouts every time you play it, while I got the same amount every time - 300 coins, no matter who of the robbers I choose.
Play Skull Duggery in Canadian Casino for Real Money
If you want to play Skull Duggery slot machine for fun as well as by the real money, we recommend you to go to Crazy Vegas Casino.
Your responses about Skull Duggery video slot would help us making casinoz.me more interesting and useful for you. Please share your opinion in comments to the review and rate this game.