Blackjack Progressive Blackjack Progressive Review
Progressive jackpots are drawn in video slots most frequently. Among the card and table games where they can be met, pokers and blackjacks win. Usually, to pretend on the jackpot and accompanying bonus payoffs, it is necessary to place a side bet in these games. One of such games is «Blackjack Progressive» which was developed by the famous CTXM company.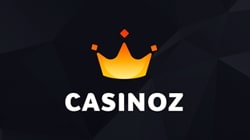 Play Free Demo Blackjack Progressive without registration
You can find «Blackjack Progressive» in Adam Eve Casino and other online casinos powered by the software developed by CTXM company. All of them allow testing gambling games in a training mode. It is also possible to play blackjack without registration right at Casinoz.
How to Play Blackjack Progressive
«Blackjack Progressive» is a free American
online blackjack with progressive jackpot
and bonus payouts.
Six classic decks of fifty two cards and no jokers are used in this game. All cards are shuffled before each deal (nothing is left aside).
The aim of the game in «Blackjack Progressive» is to win the dealer getting a higher score than he has never exceeding twenty one. The croupier can be also won on his overtake. Side bets are aped separately in the special gaming situations (please read about it below).
Playing «Blackjack Progressive» is possible on one, two or three boxes. An amount of the bet per one hand can vary from one to one hundred credits.
We won't describe details of the rules of blackjack, because they are carefully explained in the special department of Casinoz. Here we would only touch the main points of «Blackjack Progressive» game by CTXM:
The dealer deals two cards to himself, reveals one of them and checks for blackjack if it is a ten or an ace.
The dealer hits to soft seventeen and stands on hard seventeen.
Double at first two cards is allowed.
One split on a box is allowed (including different cards of ten point value).
Split aces are dealt with one card each and blackjack is impossible on such boxes.
No surrender.
There is an insurance of blackjack in case of an open ace in dealer's hand.
Win on the standard box is paid 1:1, blackjack gives a payoff by 3:2 index and insurance - 2:1.
The producer announces that the theoretical payback index of «Blackjack Progressive» is 99,3% (this data hardly takes side bets in account).
Blackjack Progressive Bonus games
The rules of «Blackjack Progressive» provide bonus payouts and a drawing of the progressive jackpot. To expect a bonus payoff, it is necessary to place a side bet. Its amount is fixed - one dollar. Wins are paid by the combinations made of aces situated next to each other starting from the first card one the customer's box.
Payoffs are following:
Four red or four black aces - jackpot;
Four different aces – х2000;
Three aces of the same suit – х1000;
Three aces of different suits – х200;
Two aces of the same suit – х50;
Two aces of different suits – х15;
One ace of any suit – х3.
If the player splits the aces, extra aces dealt not he split boxes do not allow to pretend on bonus payoffs or the jackpot. All the combinations mentioned above have to be in one hand.
Blackjack Progressive Interface
It is possible to download «Blackjack Progressive» with the multi-language interface, that makes learning the rules easier for non-English speaking gamblers. The standard terms of blackjack are used here, so there is nothing difficult here. The control panel of «Blackjack Progressive» is very convenient and user-friendly.
Should You Play Blackjack Progressive for Real Money in Canada?
«Blackjack Progressive» was created for the blackjack fans who are not indifferent to an opportunity to hit the jackpot in a deal. If you are not going to chase the jackpot, there is no sense in playing this game, because the catalogue of models of CTXM company offers online blackjack with more beneficial rules.
Our
special publications
at Casinoz would teach to play «Blackjack Progressive» and achieve the best results.