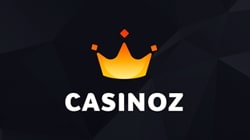 Mr Good Mr Good slot Review
Welcome to the magic forest where Mr. Good supervises everything carefully. He is a skilled fighter, but he uses his power not in his own interest, but for the good of poor. Playing this 3D video slot where Mr. Good would always fight with injustice and tyranny. Playing this amazing slot machine you can follow the battle of good and evil and the good always wins. He helps everybody, who were offended for nothing. Since now poor can sleep calmly, because they are protected from robbers, while Mr. Good is hiding behind the corner.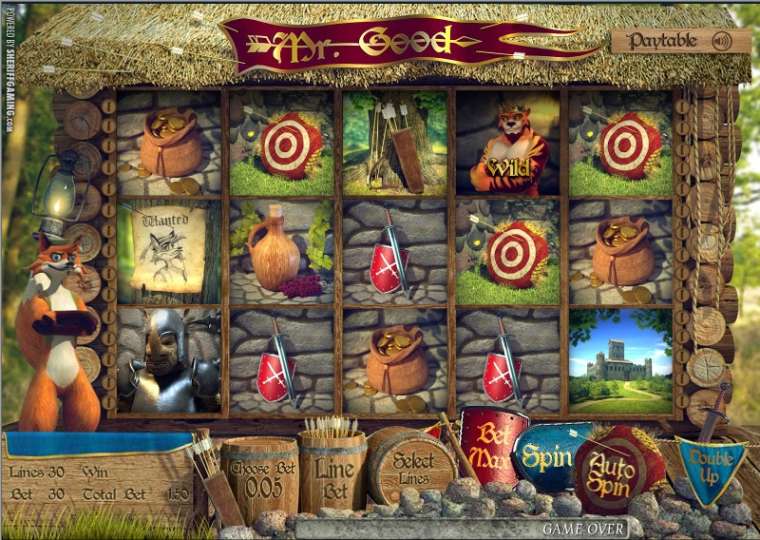 How to Play Mr Good slot machine
Mr. Good slot machine has five reels and thirty pay lines. It is a very colorful and interesting video slot. It is also provided with Wild and Scatter symbols, as well as with interesting bonus games. An amount of the bet can be very high or extremely small, because the value of coins can vary in range from one cent to one dollar. Taking in account that it is possible to stake up to five coins per one line in this game, the maximal acceptable bet can reach 150 dollars. We are not sure that any high-rollers would take this chance, but it is at least available. This game makes the best impressions. Something clicks all the time here reminding about another winning to you. In case it is exactly what we need - another beneficial slot machine.
A tiger, which is imaged with a royal crown at his head plays part of Wild symbol in this game. It appears only at the second, the third and the fourth reels. Wild symbol is able to replace other standard symbols in this game and complete the winning combinations.
Scatter symbol is an image of a poster with announcement of wanted criminal and image of Mr. Good. It triggers Click Me bonus round. This symbol drops out only at the first, the third and the fifth reels. All the prizes are multiplied by number of the active lines and an amount of the bet per line, that's why you are interested in maximal bet.
Mr. Good video slot also offers the gamblers to play in the gambling feature. Every time you get a prize, you have a chance to double it up. During the gambling feature, Mr. Good is throwing dice while you have to guess which number drops at the screen - odd or even. If you guess it, your winning would be doubled up, or you lose everything in the other case. While you manage to win in this round, you can continue playing. Or you can give up risking and stop playing in this round. It is possible to collect the winning at any moment. To make it, you just have to click at Collect button.
Mr Good Symbols, Wild, Scatter
The gaming symbols, which you would see at the screen of Mr. Good slot machine, are images of arrows, a target, golden coins, Mr. Good himself, a sword with a shield, Wild symbol - tiger king, a castle, vine, Wanted announcement with a portrait of Mr. Good, as well as a guardian in iron armor, which is the most valuable symbols of this game, which is paid out by the highest indexes.
Mr Good Bonus games
The bonus option of Mr. Good slot machine can also help you to improve your bankroll a lot. The bonus option is triggered by the symbol of Mr. Rid, which can appear at any of the pay lines. The beginning of the bonus game is quite impressive. You would see Mr. Rid, which neutralizes security. They are protecting entrance to the treasury, but as soon as you get rid of them, you can start playing in the bonus round. Here you would have to choose door one after another and take contents of the drops until you face Collect title in one of them. Here the bonus round finishes and you can continue playing in the regular mode.
Jackpots
An amount of the jackpot of Mr. Good slot machine is 1000 coins, while jackpot symbol is an image of the guardian.
Mr Good Interface
Mr. Good slot machine has a beautiful and colorful interface. It is designed in style of medieval England, that lets us connecting the main hero of Mr. Good game with the famous Robin Hood. Even his name sounds the same, while spelling was changed.
You would see the following buttons at the control panel of this video slot:
Choose Bet - select the value of coins.
Line Bet - select an amount of the bet per line in coins.
Select Lines - select a quantity of the active lines.
Bet Max - start a new spin by the maximal bet and quantity of the active lines.
Spin - start a new gaming round.
Double Up - play in the gambling feature. Here you would have to play dice with Mr. Good. You should take per odd or even number.
You can see the main features of this slot machine in the corner of the interface. Here you can also find an amount of the total bet and amount of the bet per line. Of course, these values change depending on the selected settings.
Conclusion
Mr. Good is a video slot about a bold guy which has made even the king shaking and conquered love of the people, which reminds the famous British legend. It is classics which is worth playing. This game is provided with many interesting gaming options, which would definitely suit your taste.
Play Mr Good in Canadian Casino for Real Money
We recommend you to play Mr. Good slot machine in one of online casinos, powered by the software developed by Sheriff Gaming. For example, this model is available in Next Casino with the multi-language interface.
Please share your impressions of Mr. Good slot machine with us and other readers of Casinoz. You can write your responses in comments to the review and rate this game. Your opinion is very important for us.