 About
The legends about ruined Atlantis are indissolubly tied with secret knowledges and achieves of this civilization, which have ruined Atlantis according to the legend. However, the myth about Atlantis is always accompanied with beliefs in countless wealths, which this country has taken to the ocean deep. A quantity of sea expeditions intended to find Atlantis can be compared only with a quantity of online slot machines, the main topic of which is Atlantis and its legendary wealth. Another online game in this range is Mission Atlantis.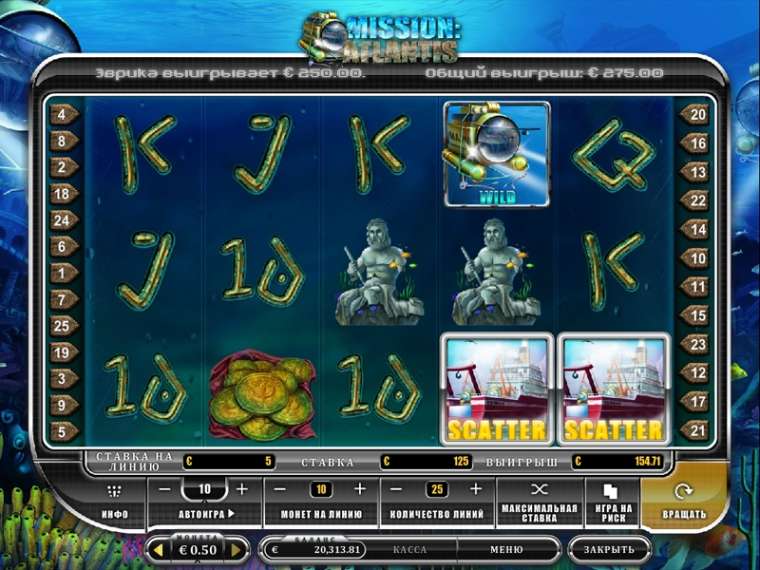 Play Mission Atlantis
Mission Atlantis is a five reels video slot with twenty five pay lines, which was produced by Oryx Gaming company. This game is provided with Wild and Scatter symbols, extra multipliers of payoffs, free spins and a bonus game.
Playing this slot machine you would listen to the beautiful music, which accompanies spins of this video slot. The sound of coins, which you can hear when prize is charged, is also pleasant.
This slot machine is available without registration in online casinos, that's why you can test it in a training mode before you start playing by the real money.
Wild symbol with image of a scuba is able to replace all the standard symbols, which are missed in the winning combinations. However, this symbol can't replace Scatter symbol with image of a ship.
By the rules of the game, you have to spend your money and funds to get results in the end of a spin. As soon as Atlantis with its countless treasures would be found, it would come back to you with percents, so your investments are not so crazy as it can seem from the first sight.
Playing this game you would have to make bets with coins of value from one cent. The maximal value of a coin is fifty cents. It is possible to stake up to ten coins per line in this game, while you can activate any quantity of available lines up to twenty five. In case of maximal bet all pay lines are activated. The value of coins and their quantity remain the same as it was before you click at Max Bet button.
Mission Atlantis game is also provided with a round of free spins. You can test this slot machine in a fun mode to find out how often such a chance becomes available, if you are not sure should you spend coins for this slot machine or not. During the round of free spins the place of discovering of Atlantis has a special value, while the atmosphere of Atlantis is still alive. When Scatter symbols drop out at the reels (at least three icons), memories of the past appear at the reels. This is how the round of free spins with x3 extra multiplier is getting started. We should also say that the bonus game (free spins) can be triggered again in case three Scatter symbols drop out during free spins again.
The gambling feature is also provided by the rules of Mission Atlantis slot machine, where you would have to stake on red or black to double up the prize. The gambling feature is optional, while this button becomes active only after you receive a winning in the game.
You can quit the gambling feature at any stage or continue playing it until you reach a limit of this round or lose. The limit for winning is 500 euro in this round.
Mission Atlantis Symbols, Wild, Scatter
Elegant, delicate and realistic style of design of Mission Atlantis slot machine as well as great work out of the symbols, which you can see at the reels. Deepwater yellow scuba with big panoramic illuminator plays part of Wild symbol. The name of the scuba is MARV. Eurica is a scientific expedition ship, which is the base of the scuba and headquarters of the whole enterprise is Scatter symbol. At Bonus symbol you can see an image of a green radar window or echo sounder with spinning scanner radius. At the rest standard symbols you are see a coral reef, an antic statue of the God, which seems to be Poseidon, in surrounding of colorful tropical fishes, almost destroyed Greek portico above a column, also under the water. And finally, golden coins, a little covered with green underwater weed. At the additional symbols you can see signs of the playing cards, such as "10", "J", "Q", "K" and «A». The card symbols are designed in style of golden pieces of wire or nails, bended in such way to make corresponding letters in style of writing on wax plate, which was popular in Ancient Greece.
Mission Atlantis Bonus games
During the bonus game of Mission Atlantis slot machine you would have to go down to the underwater cave on the scientific research ship, where lots of artifacts are hidden. You have a right to choose only five of artifacts, which would bring you immediate prizes. The name of this game is «Distinguished discover». This game is triggered by three, four or five Bonus symbols with image of radars. These symbols have to appear at the active line. A quantity of Bonus symbols at the line is also important. For example, if the bonus game was started after three such symbols have dropped out at the reels, you have only two attempts. In case you have four Bonus symbols, you get three attempts, while five symbols bring you four attempts to collect the artifacts. It is clear that amounts of winnings are different in different cases.
Jackpots
An amount of the maximal payout in Mission Atlantis slot machine is 7500 coins.
Mission Atlantis Interface
Deep color of ocean deeps is the main color used in the design of Mission Atlantis video slot. The background is full of underwater creatures and the light of scuba shines here, due to which you can see a keel of the research ship. The spinning reels of the gaming field are designed in style of mat glass, so the background looks blurry. However, all the gaming symbols suit perfectly. The markers of pay lines are made in style of stone wedges, showing to the reels. A simple logo of the game with image of the same scuba finishes the topic in the interface. The control panel with buttons with indicators of bets and winnings is a standard module of Oryx Gaming company, which is always perfectly matches the general decorations, like as it was created specially for this game. Actually, all the games on slot machines are kinds of small expeditions for the treasures.
You are going to see the following buttons in the interface of Mission Atlantis video slot:
Spin - start a new spin.
Gamble - play in the gambling feature.
Max Bet - start a new spin by the maximal bet.
Lines -/+ - select a quantity of active lines.
Coins per Line -/+ - a quantity of coins per line.
Conclusion
Mission Atlantis game is just a deposit of prizes and different features and it makes you dizzy. It is a various and interesting game exactly due to a plenty of different options. Wild symbols, Scatters, free spins and extra multipliers of payoffs are only some of them. This model is also provided with amazing music, that's why it is really difficult to stop playing. You can download Mission Atlantis slot machine and use a wonderful chance to add this model into your gaming collection. Mission Atlantis is really spectacular!
Where to play Mission Atlantis for free or real money in Canada?
Well, it is time to find treasures, which were lying on the ocean bottom and waiting to be found. You can make it in Sincity online casino, which is a reliable partner, which you can trust to. This gambling house would care about your prizes!
Please share your impressions of Mission Atlantis slot machine with us and other readers of casinoz.me. You can write your responses in comments to the review and rate this game. Your opinion is very important for us.