Jacques Pot. Gourmet Slot Jacques Pot. Gourmet Slot slot Review
Quite a plain slot machine about food and tasty dishes by Jacques Pot has been presented by Rival Gaming recently. You are going to find yourself in a magic kitchen where everything is boiling, bobbling and preparing on its own. Perhaps, it is the sign of the top performance when everything seems to be cooked on its own. Jacques Pot is the master of high class for sure. Meanwhile, we can only have a mouthwatering when we see different delicious dishes at the screen.
Rating
Excellent
8.83 /10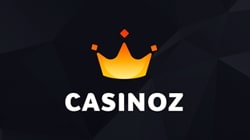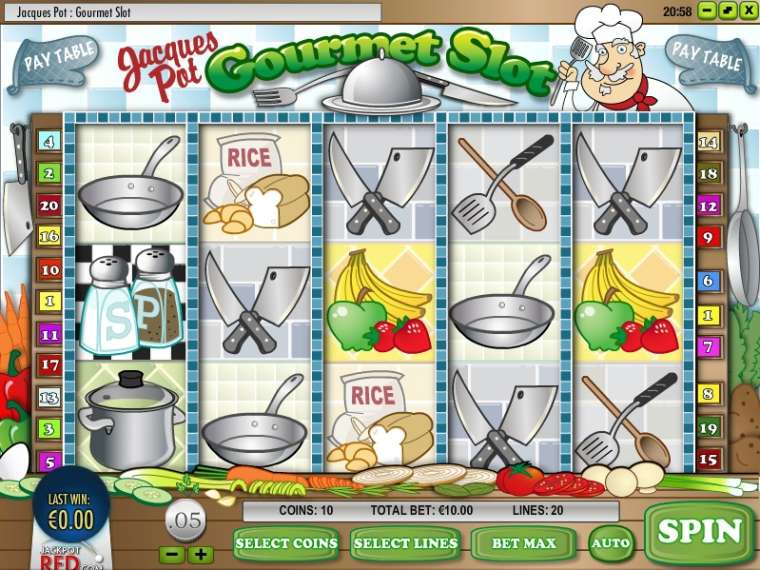 Play Jacques Pot. Gourmet Slot in Canadian Casino for Real Money
You can find Jacques Pot. Gourmet Slot slot machine in Jackpot Red online casino.
Please share your impressions of Jacques Pot. Gourmet Slot slot machine with us and other readers of casinoz.me. You can write your responses in comments to the review and rate this game. Your opinion is very important for us.
How to Play Jacques Pot. Gourmet Slot slot machine
Jacques Pot. Gourmet Slot is a five reeled slot machine with twenty pay lines which was produced by Rival Gaming company. Here is a really lively kitchen and expanding Wild symbol, which is an image of species, adds some hot to the slot machine! Moreover, this game is also provide with free spins and an exciting bonus game except of that!
It is great that you don't need to know all tricks of culinary skill to enjoy this video slot. You can waste food at your own kitchen, while here you can simply have rest! However, you better spend a few time to study out all the particularities of Jacques Pot. Gourmet Slot slot machine. You can find details in Paytable tab in the top part of the interface.
The minimal value of coins is one cent. The maximal is twenty five cents. It is also possible to stake coins in value of five or ten cents. It is possible to change an amount of the bet as well as the value of coins during the game. You can also change staked quantity of bets per each of the lines.
An amount of the total bet can be found at the special table.
Jacques Pot. Gourmet Slot Symbols, Wild, Scatter
All the gaming symbols which you can see at the screen of Jacques Pot. Gourmet Slot slot machine are strictly thematic - there are images of the ingredients and kitchen tools. Ready appetite dishes can be found only at the intro. Meanwhile, you would have to work in kitchen personally during the game! But faithful Jacques Pot is always next to you, so you are going to be well.
An image of a saltcellar and a pepper castor plays part of expanding Wild symbol, which can appear at the first, the second and the third reels. Of course, Wild symbols are always pleasant! More such symbols at the screen you have (moreover, expanding!), more winning combinations are formed in result. Wild symbol is able to replace any other icons except of Scatter and Bonus symbols. Besides that we get a desired winning combination, Wild symbol multiplies the winning two or three times.
Three and more Scatter symbols can bring you ten free spins which would bring you a winning and even double it up!
Jacques Pot. Gourmet Slot Bonus games
The bonus round of Jacques Pot. Gourmet Slot slot machine is getting started when three and more symbols with an image of the chef appear anywhere at the reels. During the bonus game you would have to make a burger and select different ingredient by your taste. You can win up to two hundred bets per line during the bonus round.
Jacques Pot. Gourmet Slot is a funny game, during which you always have mouthwatering. It perfectly suit the casual players, but can hardly satisfy the high-rollers.
Jackpots
The symbol of jackpot is an image of a kettle in Jacques Pot. Gourmet Slot slot machine. You can receive 500 bets in case five such symbols drop out at the screen.
Jacques Pot. Gourmet Slot Interface
The interface of Jacques Pot. Gourmet Slot slot machine is designed in quite a caricature style. The kitchen interior is very funny. Food is everywhere. In the other words, working atmosphere is everywhere. It is clear from the first sight that cooking is in process. You would have the most delicious dinner with such chef as Jacques Pot.
Well, you can see the following buttons at the control panel:
-/+ - select the value of coins.
Select Coins - select an amount of the bet per line in coins.
Select Lines - select a quantity of active lines.
Spin - start a new spin.
Bet Max - play by the maximal bet.
Paytable - open the window of payment table.
Conclusion
Jacques Pot. Gourmet Slot is intended for those who are not indifferent to fine cuisine. Spend a night experimenting with ingredients and maybe you would be able to cook your royal dish under the careful eyes of Jacques Pot, who cooks such delicious dishes that you are longing for more!