50 Line Jacks or Better 50 Line Jacks or Better Review
We have already told about traditional version of «Jacks or Better» video poker, which was released by CTXM company, in the review published at Casinoz. We won't discuss variations of this game with other quantity of lines, because their rules are identical.
Rating
Excellent
8.44 /10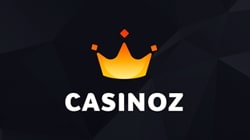 Play Free Demo 50 Line Jacks or Better without registration
You can find «50 Line Jacks or Better» in Adam Eve Casino and some other online casinos powered by the software developed by CTXM company. All of them provide an opportunity to test presented games in a training mode and some even offer video pokers without registration.
It is also possible to play «50 Line Jacks or Better» right at Casinoz, but only by the virtual bets.
How to Play 50 Line Jacks or Better
«50 Line Jacks or Better» is a free online video poker developed by CTXM company which has classic rules of «Jacks or Better» and can be played by fifty lines only. This producer also has other variations of this game with other number of available lines.
The gambler has to make as many combinations provided by the pay table as he can. He can also change from one to five cards free when necessary. Exchanges are free.
An amount of the bet per one hand can be from one to five coins of value in range from one to ten cents in «50 Line Jacks or Better». This way, it is possible to stake up to twenty five dollars per deal.
Standard decks of fifty two cards with no jokers are used in «50 Line Jacks or Better» game. Cards are dealt from the special decks on each of the hands.
Poker combinations from pair of jacks to royal flush are winning in this model. The maximal payout in amount of four thousand coins (it's called a royal prize here) is paid for royal flush made while playing by five coins staked. The coin value doesn't make difference.
Playing «50 Line Jacks or Better» video poker by the optimal strategy, you can reach the average payback of 98,39% (according to the official information of the producer).
First the player has to set up coin value and place the bet. Then he receives five cards on one box. Now he has to decide would he change any of cards. The cards he holds are duplicated at all gaming lines. The user get new cards from the special decks instead of the folded.
Payoffs by all boxes are summarized. The total win can be staked in the gambling feature. Here it is necessary to find the card which can hit the face-up card of the dealer amount four face-down cards (new deck is used here). If the client succeeds, his payoff is doubled up. If he makes a mistake, he loses the prize.
It is possible to guess up to five times running in the same round (in case of successful attempts).
50 Line Jacks or Better Bonus games
Any bonus payouts are not provided by the rules of «50 Line Jacks or Better» video poker, except of disproportionally increased win by royal flush drawn by the maximal bet.
50 Line Jacks or Better Interface
There is no sense in detailed description of the interface of «50 Line Jacks or Better» video poker, because you can download this game in your original language.
We would only say that this model has the really beautiful design and the convenient control panel, which is clear even for a very beginner. The game is also provided with the pay table and the informational section.
Should You Play 50 Line Jacks or Better for Real Money in Canada?
«Jacks or Better» is a classic which every regular customer of online casinos has to play on. Its variation with fifty lines lets the gamblers play video poker much faster than on one hand. «50 Line Jacks or Better» model developed by CTXM company stands against the rest game of this kind by its cool design and we can bravely recommend it to the users.
The
optimal strategy of «Jacks or Better» video poker
has been discussed in one of the articles of the special department of Casinoz. Here we can only remind you to stake five coins every time not to lose the increased payoff by royal flush.