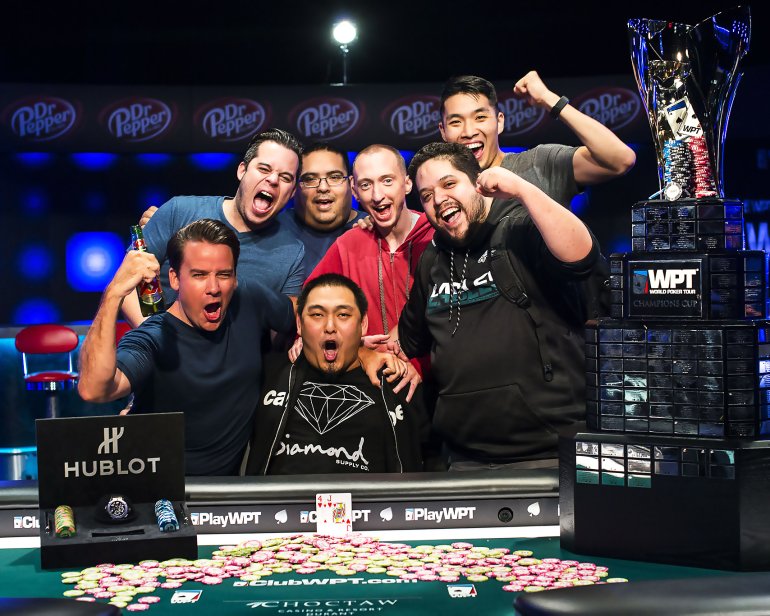 Among a huge number of online casino promotions designed to attract customers, the tournaments are not the least. Those that pay to the player who makes bets for the highest amount in a certain period of time are particularly popular. Usually, several winners share the prize pool in accordance with the places they took. Such competitions sometimes attract even beginners who don't understand the reefs they may face.
Casinoz is committed to helping all interested players to understand what these tournaments are so that they can decide whether or not to apply.
How to avoid gambling addiction playing in tournaments?
First of all, we must understand that an amount that guarantees you a place among the tournament winners is very difficult to predict. You can bet 10000$, and then it turns out you had to wager 10001$ to win a part of the prize fund. So, be prepared that any amount, no matter how big it may seem to you, can be beaten by someone.
But the main thing is not even that. In online casinos, you can try your luck in your favorite games, participate in tournaments or play at the tables with certain promotions. All this is not so important.
The main thing is to play with a strictly limited bankroll and never exceed it.
We talked about it on our website in the articles on various topics, but this is so important for successful playing in an online casino that we once again remind you about it.
Moreover, the size of your bankroll should be within your financial capabilities. Its size should not make you worry and lose patience. Only this approach will ensure that you won't find yourself among people suffering from gambling addiction. If you set a goal to win the tournament at all costs, you can exceed the prepared bankroll's size and expose yourself to danger.
Max betting amount tournaments T&C
Most tournaments on the maximum betting amount set a minimum limit that has to be fulfilled to participate. For example, it could be 1000$. If none of the players makes bets for a 1000$, the prize pool will not be played.
It is a fair position, whereby the casino ensures that a substantial part of the prize pool does not go to players who did not give a tenth part while no serious competitors took part in the tournament.
Therefore, the first thing a casino visitor interested in such a tournament should do is check the minimum participation limit.
Then compare it with your bankroll allotted to this game. Otherwise, you risk spending much more money than planned.
If you are already in the tournament, stop as soon as you lose only this amount. In the end, if it is not enough to hit the winners, you have nothing to lose. Consider what is happening as a normal unlucky game where you lose. If you can monitor the tournament leaders, do not try to catch them and bet more than you planned.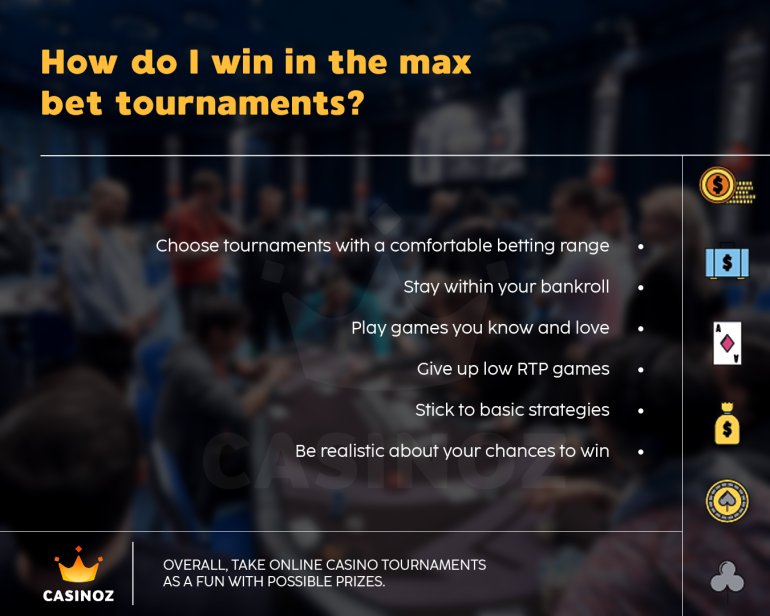 Tips for tournament players
Never play in the max betting amount tournaments on the games that you do not know well enough, or you do not like.
If you always play blackjack or video poker because the outcome of these games depends on your luck, but also your own professionalism, do not be tempted to sit at the poker table for the sole reason of participation in a such tournament.
Of course, most tournaments are held on slot machines, but it does not mean there are no other games. Perhaps you should check other casinos.
Especially refuse to participate in a tournament if it includes special rules that are less favorable to participants. This sometimes happens in some casinos. In blackjack tournaments, for example, they may limit the fold in games.
Let's summarize everything we talked about in a few paragraphs.
Choose only those tournaments whose minimum entry fee does not exceed your usual bankroll.
Stop playing as soon as you spend your allotted bankroll, even if the tournament is not over yet.
Choose only those games you know well and like.
Never participate in the tournament if its rules are trimmed.
Never step away from the basic strategy for the game, even if you feel that it will help you to win the tournament.
Take participation in such tournaments as an additional opportunity to win and nothing more.
Do you like online casino tournaments? Please share your experience with other Casinoz readers.