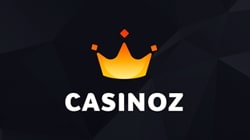 European Roulette

How to Play European Roulette
European Roulette from Play'N GO is a
classic European online roulette
, where it is necessary to make bets, predicting a pocket on the wheel into which a ball falls. General rules for the roulette are described in a special section of Casinoz, and here we are going to briefly discuss only the basic features of the model.
Standard inside and outside bets are accepted in European Roulette. We will not list them. The racetrack for oral bets is not provided.
The following range of bets is available at Unibet Casino Black: 1 - 100 on any field, 1 - 1,000 credits on a spin.
The developer stated that the theoretical payout percentage of European Roulette was equal to 97.30%. It meant that the house edge was typical for European roulette and comprised 2.7%.
European Roulette Interface
The interface of the game is very comprehensible. Bets are placed on a field by the mouse. Before this gamblers should select chips of the required denomination. There are few windows and buttons on the control panel:
Spin allows starting a new spin
Rebet allows repeating a bet
Clear All helps cleaning the field from bets
Settings includes user settings
Help is a section with information
Exit allows exiting the game
Bet is a bet size per spin
Balance allows finding out the sum on the account
Win is a amount of payouts
European Roulette from Play'N GO has two additional boards. One of them provides information with advices about the current stage of the game, and the other one displays the most recent winning numbers.
As soon as the ball falls into any pocket of the wheel with a number, a window with a larger fragment of the roulette wheel appears in the lower left corner of the screen.
When you hover the mouse cursor over any of the fields of the table layout, pop-up window with information about the amount of the bet, payout odds and the quantity of involved numbers appear.
In the settings it is possible to disable sound and voice of the dealer. Gamblers can also specify under which circumstances to place or remove chips from the field.
Conclusion
European Roulette from Play'N GO is high-quality roulette with the advantages of a user-friendly interface and beautiful design. A quite realistic animation of ball and wheel movement should be noted. This model has no significant disadvantages.
Play European Roulette in Canadian Casino for Real Money
Gamblers can play roulette from Play'N GO at Unibet Casino Black. This online casino is famous due to the fact that it allows running games with conventional bets without registering. Users can also test the roulette directly on the website of Casinoz.