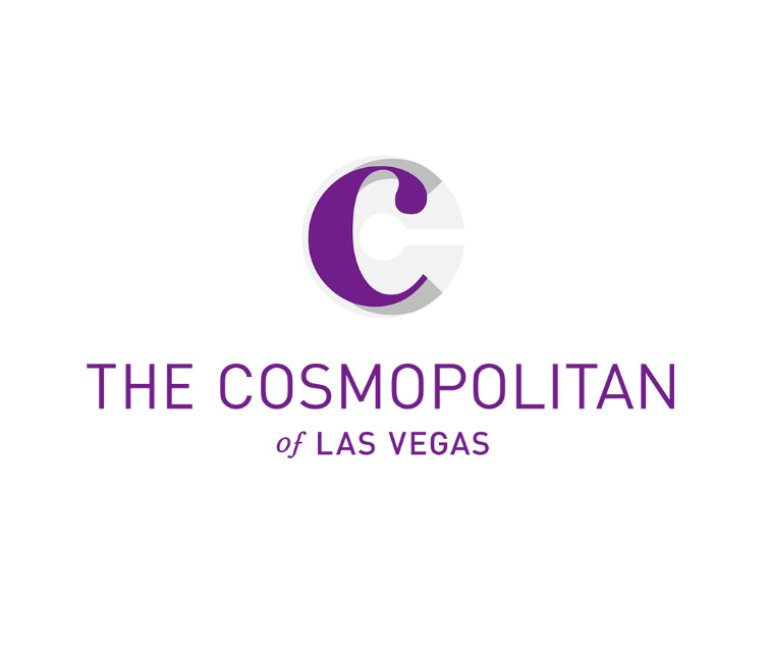 Cosmopolitan is located on the famous Las Vegas Strip. It is a luxurious resort casino complex. In 2013, Gogobot, one of the world's most famous travel sites, called it "the best hotel in the world." In 2015, the casino was included to the Gold List of a British travel magazine Conde Nast Traveller. In 2016, the hotel and spa of Cosmopolitan of Las Vegas were rewarded with the Four-Star Award by Forbes Travel Guide.

Description
Cosmopolitan of Las Vegas (also known as the Cosmo) has two high-rise 184-meter towers called the Cosmopolitan Casino Spa Tower and Cosmopolitan Casino Beach Club Tower. The resort, which costs approximately four billion dollars, has the following objects:
2,995-room hotel;
10,000-square-meter casino;
Huge shopping mall;
Restaurants;
Spa and fitness center;
3,200-seat theater;
Conference hall.
Most rooms of the hotel complex have private terraces. There are also great views of the Las Vegas Strip.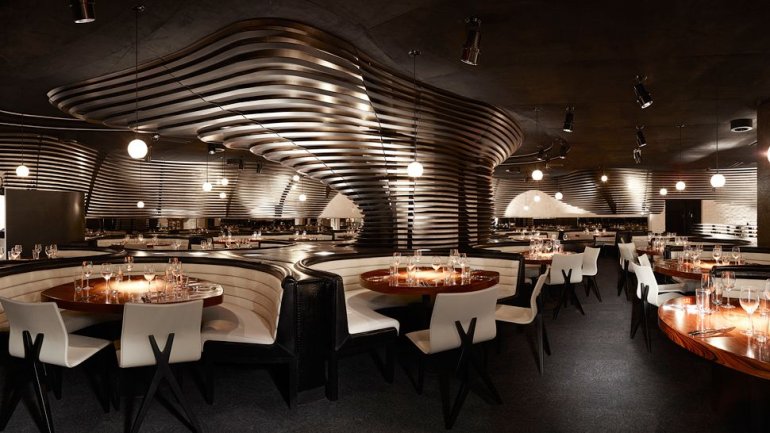 Swimming pools of Cosmopolitan are divided into three types: relaxing, dayclub, and nightclub. The gambling establishment offers a nightclub called the Marquee Nightclub & Dayclub, which is the biggest grossing U.S. club. In January 2014, Cosmopolitan of Las Vegas introduced a new format called Rose. Rabbit. Lie.
History
The intention to open a new establishment was announced in April 2004. The company 3700 Associates cooperated with David Friedman (a former CEO of Las Vegas Sands), a real estate developer Ian Bruce Eichner, and Soros Fund Management purchased an 8.5-acre area and started a project.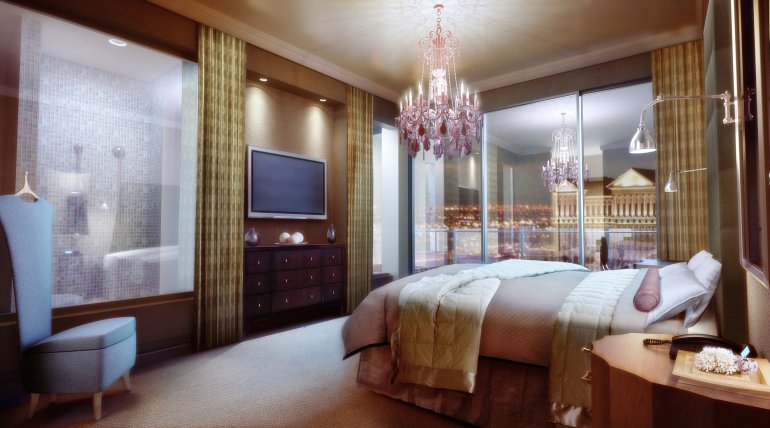 The Cosmopolitan of Las Vegas team of designers was headed by Friedmutter Group. The exterior of the building was designed by Arquitectonica. In addition, several world-renowned interior design companies were involved in the project. Among them you can find Prophet, Friedmutter Group, The Rockwell Group, Jeffrey Beers, Adam Tihany, and Bentel&Bentel.
In January 2008, it was announced that the project faced financial difficulties, since the construction company had problems with loans of Deutsche Bank. Developers found a new investor, but Deutsche Bank filed a lawsuit, demanding payouts. Several companies, including MGM Mirage, Starwood Hotels & Resorts Worldwide, Hyatt, and the Hilton, negotiated to purchase the gambling establishment.
In June 2008, Hearst Corp, which owns the Cosmopolitan magazine, filed a lawsuit against the casino owners for use of their brand. In March 2010, everything was settled, and the resort received a new name Cosmopolitan of Las Vegas.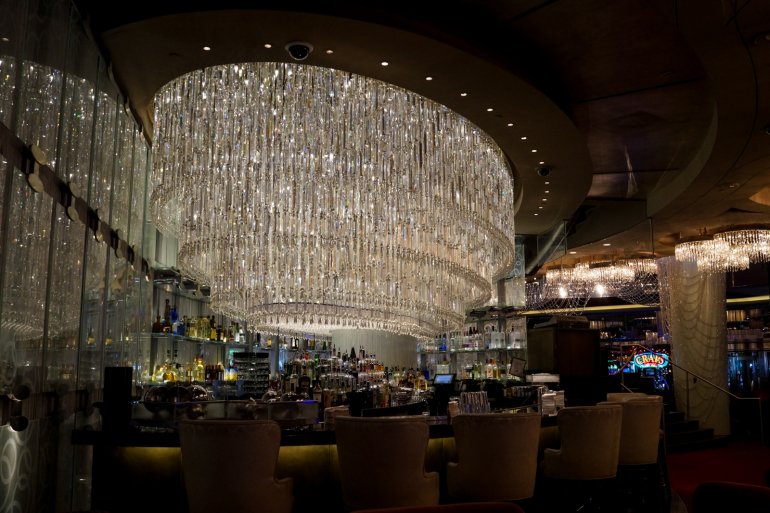 In April 2010, it was announced that Cosmopolitan would open its doors at several stages, starting from December and ending with July 2011. The official opening of the resort took place on December 15, 2010. The Cosmopolitan Hotel became part of Marriott International and a partner of the Ritz-Carlton.
In May 2014, the resort was acquired by Blackstone Group for 1.73 billion dollars.
On July 25, 2015, the complex became a victim of a fire. It led to destruction of cabanas and artificial palm trees. Two individuals were hospitalized due to inhalation of the smoke. The gambling house resumed providing services on the same day.
Casino
Initially, the casino was expected to be located on the first floor of the building. However Cosmopolitan of Las Vegas is located on the ground floor and occupies ten thousand square meters. Floor-to-ceiling glass walls allow players to enjoy amazing views of the Las Vegas Strip.
A huge range of classic games at Cosmopolitan Casino is successfully combined with the recent gambling-related offers. The casino provides the following traditional table games:
Blackjack,
Roulette,
Craps,
Baccarat,
Three card poker,
Texas Hold'em,
Pai gow poker.
The bet size varies from five cents to five hundred dollars. Such betting limits will satisfy both fans of micro-limits and high rollers.
At Cosmopolitan of Las Vegas fans of gambling will appreciate the incredible number of video slots, electronic table games, and video poker slots. The gambling hall is equipped with modern comfortable armchairs, lounge, private cabanas, and the recent innovations in the world of gambling.
Among video slots users can find such famous models as Game of Thrones, Britney Spears, Frogger, Anything But Six, Pinball, All Star Poker II, and many others.
Following the current trends in the world of gambling, Cosmopolitan of Las Vegas allows customers to place bets on sporting and other events via mobile devices.
Customers of the gambling house can select limits for their gaming sessions and immediately start playing.
Entertainment In addition to numerous gambling-related opportunities, guests of Cosmopolitan of Las Vegas can enjoy the best night clubs in Las Vegas. There are such nightclubs as Marquee Nightclub & Dayclub and Rose.Rabbit.Lie.
Marquee Nightclub & Dayclub is a huge club located on a rooftop. It features a swimming pool with remarkable views of the night Las Vegas. Parties are held by the best DJs in the world.
Rose.Rabbit.Lie was opened in January 2014. It is a modern American club with live music, library, and entertainment programs. Rose.Rabbit.Lie allows customers to enjoy unique dishes and incredible cocktails.
The resort offers three swimming pools and a large spa facility. It is called Sahra Spa & Hammam.
The hotel features over a dozen restaurants, which will satisfy all tastes, and several well-known gastronomic facilities with world-renowned chefs.
Cosmopolitan of Las Vegas is proud for its collection of contemporary digital art objects and regular temporary exhibitions. Here you will find works of art of the famous master of LED-technology Leo Villarreal, large-scale projects of T.J. Wilcox, Yoko Ono, and many others.
Conclusions
The resort casino complex Cosmopolitan resembles other gambling houses of Las Vegas by its beauty and richness of design. It is a modern facility that obtained many awards for its five-year existence. It has become the favorite place both for fans of gambling and those who monitor trends of the modern urban life.
If you have visited the Cosmo, please share your impression and tell us about your personal experience.