 Pop Bingo Review
Pop Bingo was created by developers of Playtech on the basis of bingo. The faster you fill in a card consisting of fifteen numbers, the larger will be the payout. Do not be afraid to miss the winning number, since they are crossed out automatically. You just need to watch this process.
Rating
Excellent
8.17 /10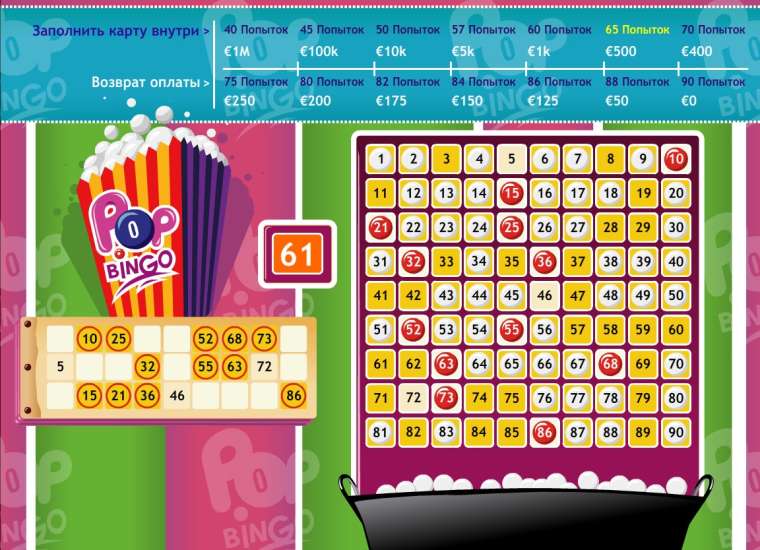 Play Pop Bingo
Pop Bingo is a
free arcade game
released by Playtech. It is possible to play this game wagering from ten cents to one hundred euros.
The aim of the game is to cross out fifteen numbers in the purchased card for the minimum number of moves. The numbers appear one after another on a special board and are crossed out from your card at the same time.
Ninety successively numbered balls are available in Pop Bingo. To receive the minimum payout, you should fill in a card at least for eighty eight attempts.
The maximum multiplier is x10,000 (one million if the bet is one hundred euros). It is provided to anyone who can cross out all the numbers in the card within forty moves.
As mentioned above, the gameplay in Pop Bingo is fully automatic. You only need to select the card value and start a new round. After that, the balls will appear from a special basket, and the program will mark the winning numbers.
Pop Bingo Interface
The interface of Pop Bingo includes three basic elements: a card with fifteen numbers, a board on which the winning numbers are marked and a paytable.
If you want to adjust the sound, select the game speed or make any other changes to the gameplay, open the section Options in the menu.
It is possible to download Pop Bingo with full and high-quality translations into different languages that will help you to understand all aspects of the game if English is not your native language.
Conclusion
It can be said that an arcade game called Pop Bingo is just a simplified version of bingo. It is so simplified that it can hardly be referred to as a classic version.
The general rules for bingo, as well as the optimal strategy for this game are discussed in separate publications on the portal Casinoz.

Where to play Pop Bingo for free or real money in Canada?
If you are interested in Pop Bingo, you can search for this game at online casinos operating on software released by Playtech. We recommend that you should use Europa Casino for this purpose, where you can play both for money and for fun. If you want to play using conditional bets without registration, Pop Bingo is available directly on our website.